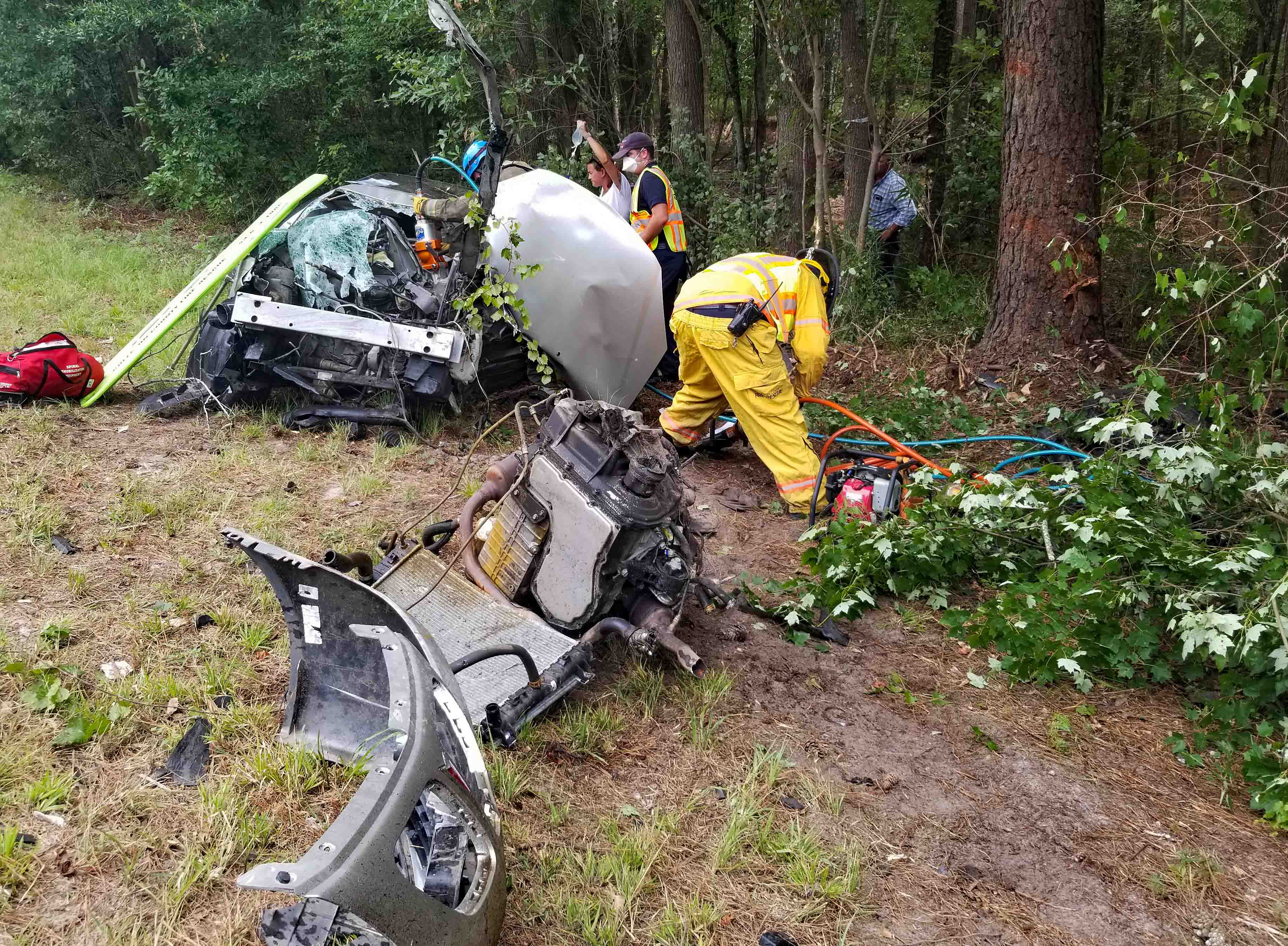 03/August/2020 – MVC with Entrapment
Incident # 20-05312 – An adult male was critically injured in a high speed single vehicle MVC on Interstate 95 at the 41 mile marker northbound, Monday afternoon 03-August at 13:54. According to witnesses, the vehicle was traveling northbound, when is left the roadway on the median side, over-corrected, lost control and skidded sideways across both lanes, then went down the embankment and struck several trees. The impact caused heavy damage to the small 2006 Pontiac G6, displacing the interior. The entire engine and the steering wheel were thrown out of the car. An off-duty NC Paramedic and his EMT wife stopped to render aid and provided excellent patient care prior to the arrival of Fire-Rescue and assisted during the extrication. Firefighter-Paramedics found the driver seat belted in the car, unconscious suffering multiple traumatic injuries. Crews used Holmatro Hydraulic Rescue Tools to extricate the man. He was treated during the process, including IV fluids and medications. A medical helicopter was requested, but could not fly due to poor weather conditions. The man was immobilized and placed in Fire-Rescue Medic 13, then transported emergent to the Trauma Center at MUSC in Charleston. He required advanced airway measures during the transport to maintain his breathing. Additional Firefighter-Paramedics assisted with his care during the transport. The SC Highway Patrol is investigating the crash. Northbound traffic on I-95 near the accident site was down to one lane causing traffic to back up for several miles.
Engine 1, Medic 1, Medic 13, Rescue 1, Battalion 1, Car 110 and Car 118 responded. Chief McRoy served as Incident Commander.