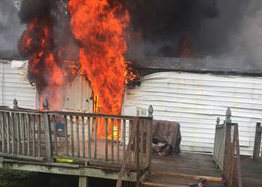 24/January/2020 – Structure Fire – "B" Shift
Incident # 20-00509 – A Jacksonboro family of four was displaced following a fire in their mobile home Friday morning 24-January at 10:57. The occupant advised he was cooking and stepped away from the kitchen. He heard his granddaughter crying in the front of the home and upon returning through the kitchen found the blaze near the stove and the wall behind the stove. He picked up the girl and both safely exited the home. Firefighter-Paramedics arrived six minutes later to find heavy fire conditions with flames coming from the front door and windows in the center of the singlewide mobile home. Engine 6 deployed two handlines to the building and crews entered through the front door. They were able to quickly knock down the fire, which gutted most of the residence. The two rear bedrooms had some salvageable items. The fire appears to have started on the stove, burned up the wall and entered the void space between the ceiling and the roof. Crews were on the scene for two hours. The Red Cross is assisting the family who had no insurance.
Engine 2, Engine 6, Engine 35, Tender 2, Tender 6, Tender 9, Tender 12, Tender 27, Tender 35, Medic 6, Medic 19, Battalion 1, Car 112, Car 118 and St. Paul's FD. Captain Dewayne Jacques served as Incident Commander.