20/September/2018 – Fatal MVC with entrapment & Air Evac – "C" Shift
Incident # 18-06524 – A tragic high speed multi-vehicle collision in the 6300 block of Sniders Hwy (SC Hwy 63) east of Brick Road, resulted in the deaths of two people and critically injured two Hampton County women. The accident was reported at 11:52, Thursday morning 20-September. Fire-Rescue units arrived six minutes later and could see a large column of black smoke from five miles away. Arriving units found a well involved tractor trailer off in the woods, a Toyota Avalon with heavy damage in the woods near the rear of the tractor trailer and a small crossover type vehicle about 75 feet west which as also on fire. The small car and the tractor trailer had collided head-on resulting in massive damage to both vehicles. A large amount of diesel fuel, from a dislodge tank on the tractor trailer, cover the scene and was burning on the highway. The semi-truck was loaded with wood chips. The front of the trailer and load was also on fire. Grass/Woods fires were on both sides of the roadway. Bystanders had pulled one woman from the passenger seat of the Avalon and taken her to safety on the opposite side of the road. The female driver was heavily entrapped in the wreckage and they were unbale to get her out of the car. The intense fire was burning near the Avalon, with the dislodged breached fuel tank burning in front of the vehicle. Additional fire units, ambulances and a medical helicopter were called to the scene. Firefighter-Paramedics began treating the injured, while other crew members used multiple hand lines to combat the fires.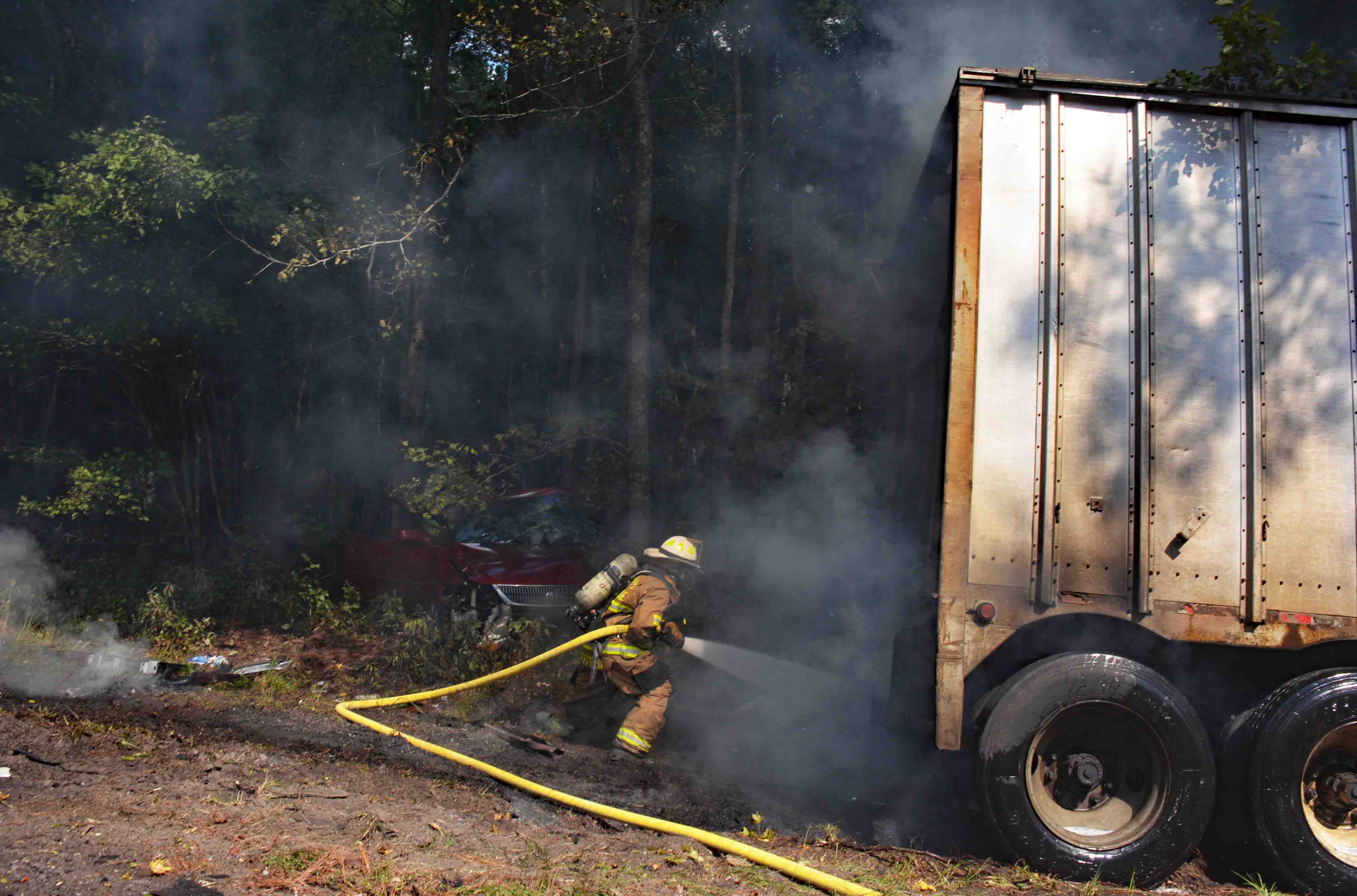 Crews, worked to extinguish the fire near the Avalon first so they could safely access the patient and begin extrication. The driver of the cross-over and the tractor trailer were found outside of the vehicles. Crews knocked down the flames, then used Holmatro Rescue Tools to extricate the driver of the Avalon. She was treated for multiple traumatic injuries during the extrication. The woman was removed from the car in critical condition and transported to a nearby field in Fire-Rescue Medic 13 to meet with the C.A.R.E. Flight helicopter. She was flown to an area Trauma Center. The other surviving female patient was transported in critical condition to the Trauma Center at Trident Hospital in North Charleston by Fire-Rescue Medic 1. The Coroner's Office transported the other two patients. Sheriff's Deputies assisted with traffic control and the SCHP is investigating the crash. Traffic on Sniders Highway was rerouted for six hours.
Engine 1, Engine 18, Rescue 1, Medic 1, Medic 13, Medic 18, Medic 19, Battalion 1, Car, 104, Car 105, Car 110, Car 112 and Car 118 responded. Deputy Chief David Greene served as Incident Commander.