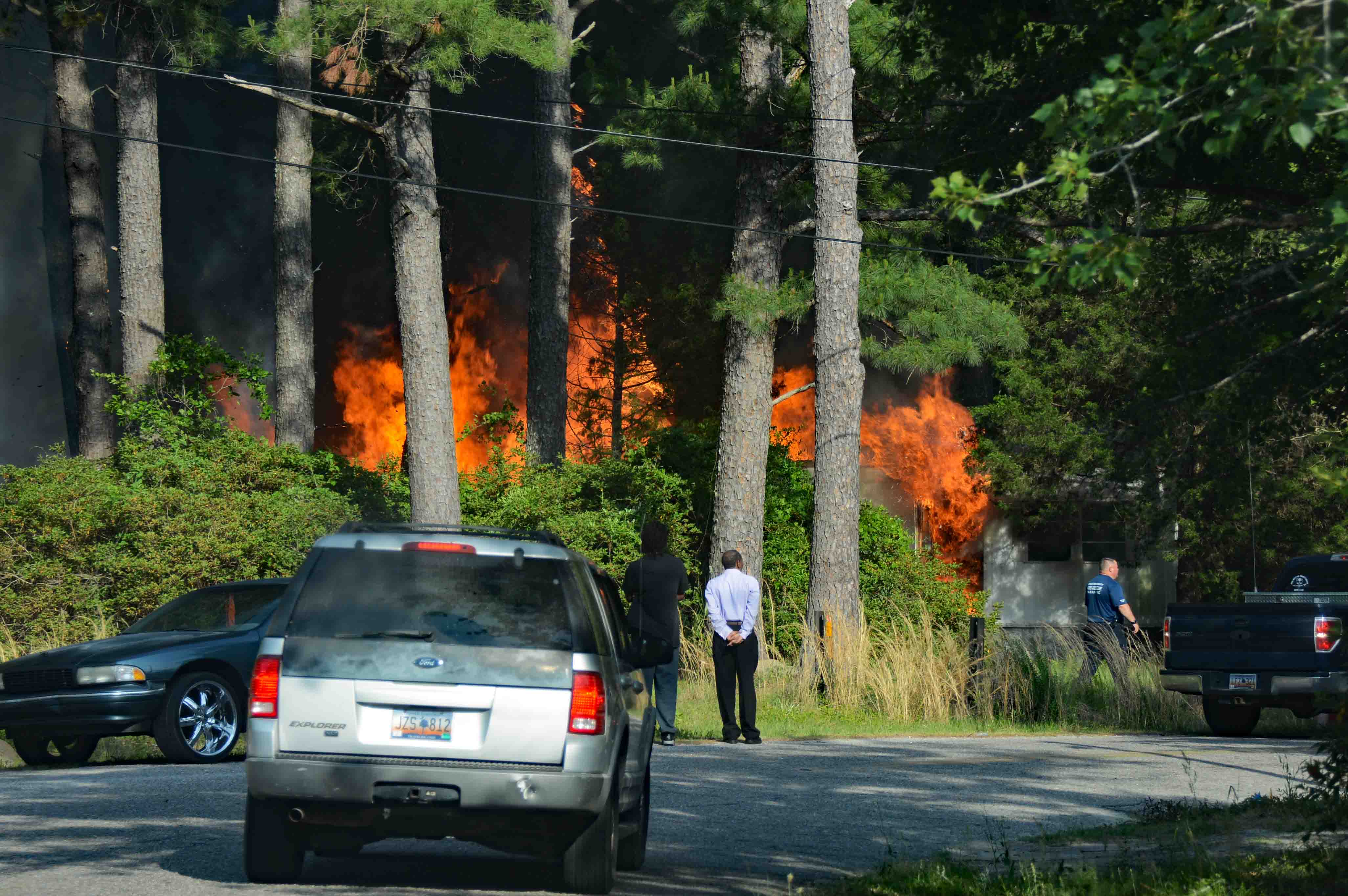 13/May/2018 – Structure Fire – "B" Shift
Incident # 18-03375 – A singlewide mobile home and work shed were heavily damaged in an afternoon fire at 800 Poplar Street Sunday 13-May. At 17:48, some children noticed flames coming from the building and told an adult to call 9-1-1. A passing motorist also called in the fire. Engine 19 arrived to find the two buildings well involved, with approximately half of the mobile home already collapsed. Firefighters used the deck gun on Engine 19 to knock down the bulk of the fire, before deploying multiple handlines to the buildings. Engine 1 set up south of Engine 19 and deployed several handlines to the back of the structures. The power line running to the residence fell in the front yard, starting a grass fire. One line was extended to the yard next door to protect the adjacent property until the power company could secure the downed line. Firefighters worked for about 20 minutes to bring the fire under control. 50% of the mobile home was destroyed and in the interior of the building was gutted. Approximately half of the 15X30 work shed was also damaged. No one was living in the building when the fire occurred. Evidence at the scene indicated the building may have been burglarized prior to the fire. Anyone with information regarding the break in or the fire is encouraged to contact the Colleton County Sheriff's Office at 843-549-2211 or Fire-Rescue Headquarters at 843-539-1960. Units were on the scene for three hours.
Engine 1, Engine 19, Engine 26, Tender 1, Tender 19, Tender 26, Medic 1, Medic 19, Medic 26, Battalion 1, Car 105, Car 112 and Car 118 responded. Battalion Chief Brent Dalton served as Incident Commander.