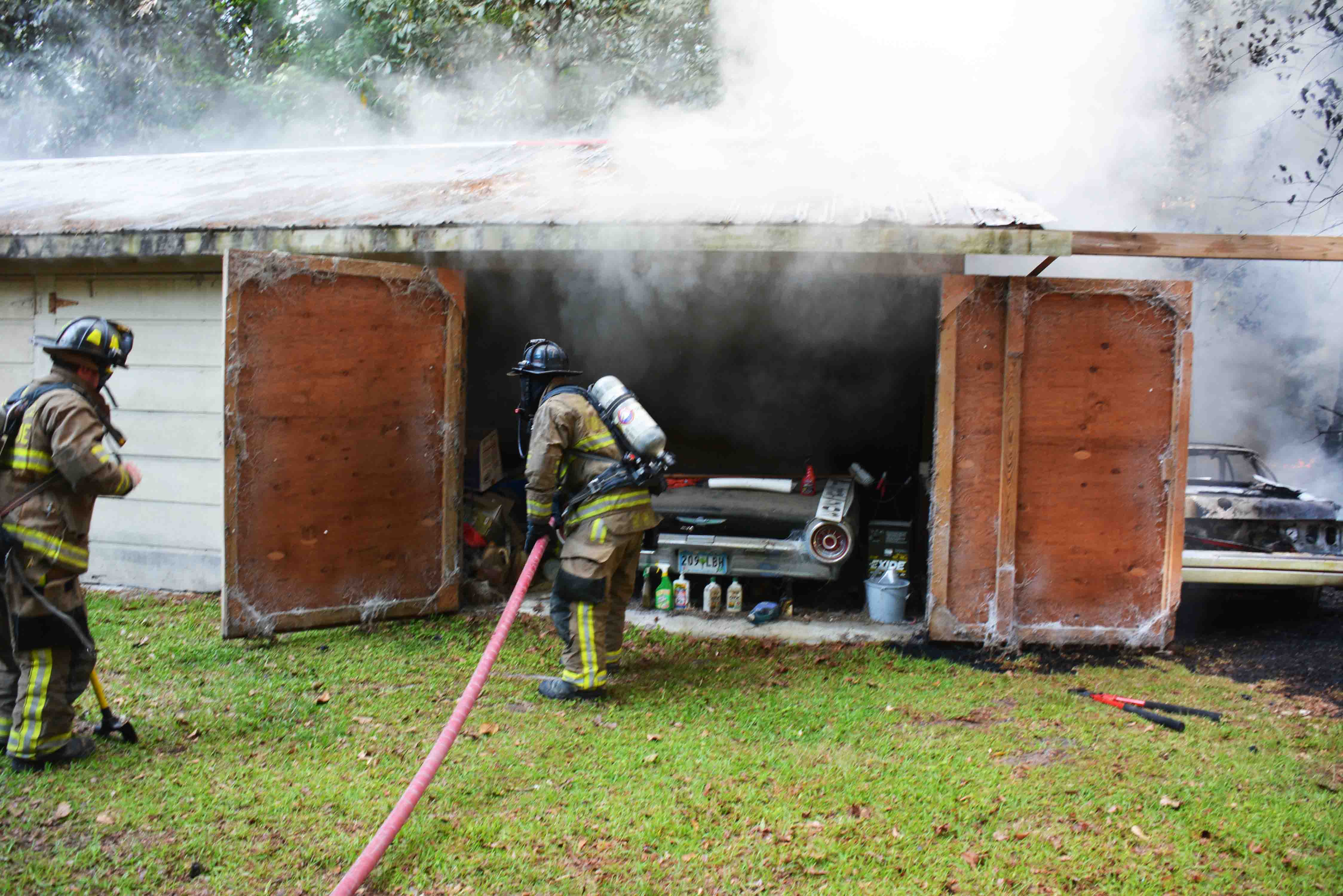 09/May/2018 – Structure & Woods Fire – "A" Shift
Incident # 18-03283 – Firefighters saved a garage and several antique cars in an afternoon fire in the 3000 block of Bells Hwy. Wednesday afternoon 09-May. At 17:31, an off-duty Firefighter-Paramedic was traveling Bells Hwy to Wal-Mart when he noticed a column of black smoke west of the Shopping Center. He went to investigate and found a detached garage and a vehicle on fire, along with approximately one acre of woods. He called in the fire over the radio. Engine 26 arrived and deployed three handlines. Firefighters knocked down the fire on the exterior of the garage and the nearby Cadillac that was fully involved. Other crewmembers used hand tools to break the locks on the garage doors to gain entry into the building. The interior was charged with smoke and firefighters found the rafters burning on the east end of the building. A portion of one wooden garage door was also on fire. They found four antique cars, one from the late 1920s/early 30s inside the building. They covered one of the cars with a salvage cover to protect it while they worked to extinguish the fire in the rafters. A Forestry tractor was requested for the woods fire which extended in the woods behind the building. Firefighters worked for about 25 minutes to contain the fire. The older model Cadillac was destroyed, but all of the other antique cars were not harmed. The Forestry Tractor cut a fire line around the perimeter of the fire. Units were on the scene for 2-1/2 hours.
Engine 1, Engine 26, Tender 1, Tender 4, Tender 18, Tender 26, Medic 26, Battalion 1, Car 105 and Car 112 responded. Captain Brian Bishop served as Incident Commander.