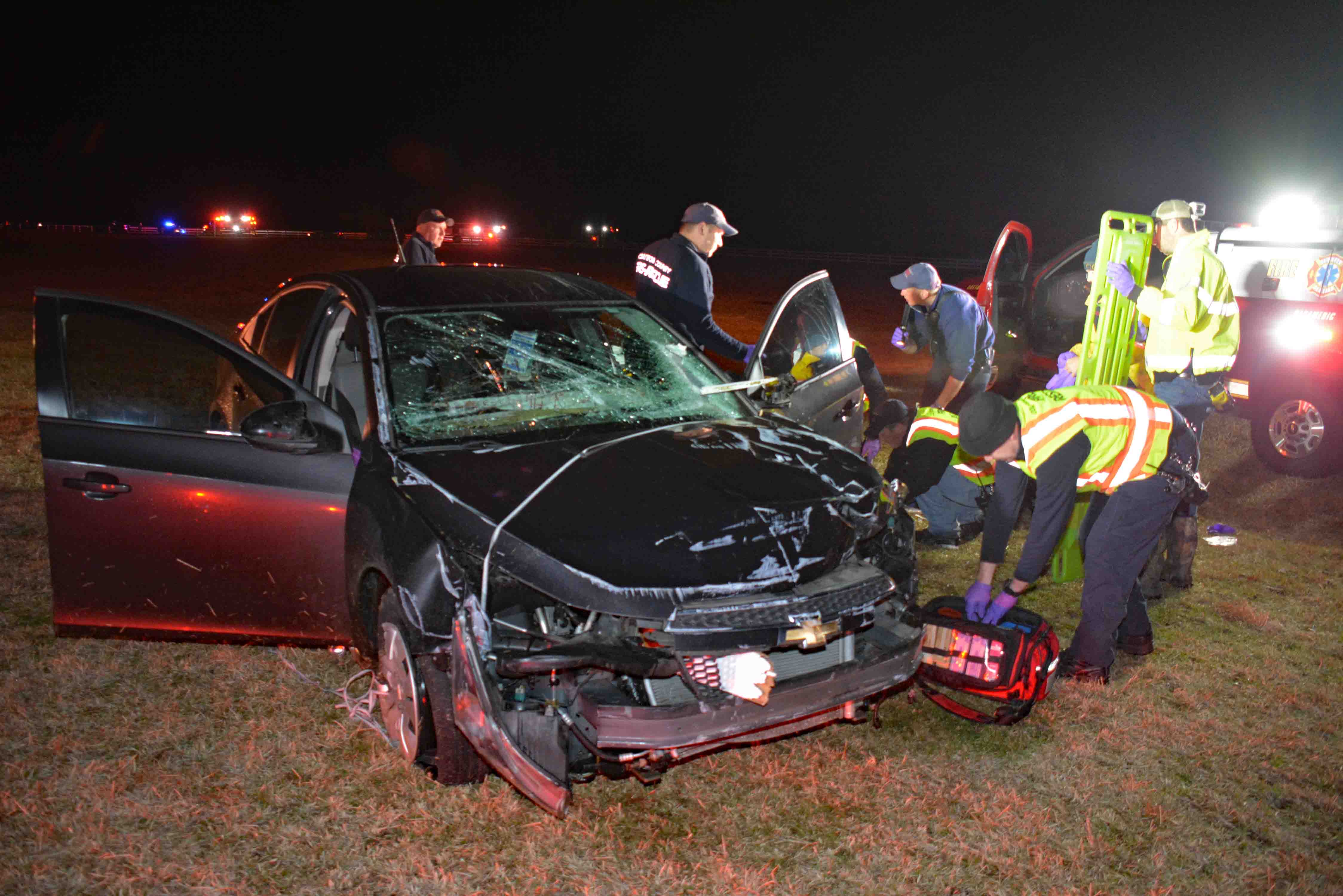 15/January/2018 – High Speed MVC with Air Evac – "C" Shift
Incident # 18-00436 – Three people were injured, one critically, in a single car, high speed MVC in the 5100 block of Combahee Road at the entrance to Cherokee Plantation Monday morning 15-January at 00:28. The 2014 Chevrolet Cruze was traveling southbound on Combahee Road at a high rate of speed, when it failed to negotiate a curve. The car left the roadway, cross the ditch and struck a wooden fence. A part of the broken fence rail penetrated the windshield, cut the steering wheel in half and struck the drive in the head causing severe trauma. The car continued through the field, drove through two more fences, then traveled approximately 700 feet to the back of a second pasture. Firefighter-Paramedics from Medic 13, found the driver unconscious and barely breathing. He was quickly extricated from the car, so crew members could secure his airway and assist his breathing. A medical helicopter had already been requested based on the caller information. C.A.R.E. Flight arrived on the scene minutes after the man was removed from the car. The helicopter landed in the field near the car. The patient was quickly transferred to the helicopter and flown to the Trauma Center at MUSC in Charleston. Two adult females received non-life threatening injuries. They were treated at the scene, then transported to Colleton Medical Center by Fire-Rescue Medic 1. The SC Highway Patrol is investigating the accident.
Engine 1, Medic 1, Medic 13, Rescue 1, Battalion 1, Car 112, Car 118 and C.A.R.E. Flight responded. Battalion Chief Chris Jones served as Incident Commander. Battalion Chief Scott Feather served as Landing Zone Coordinator.