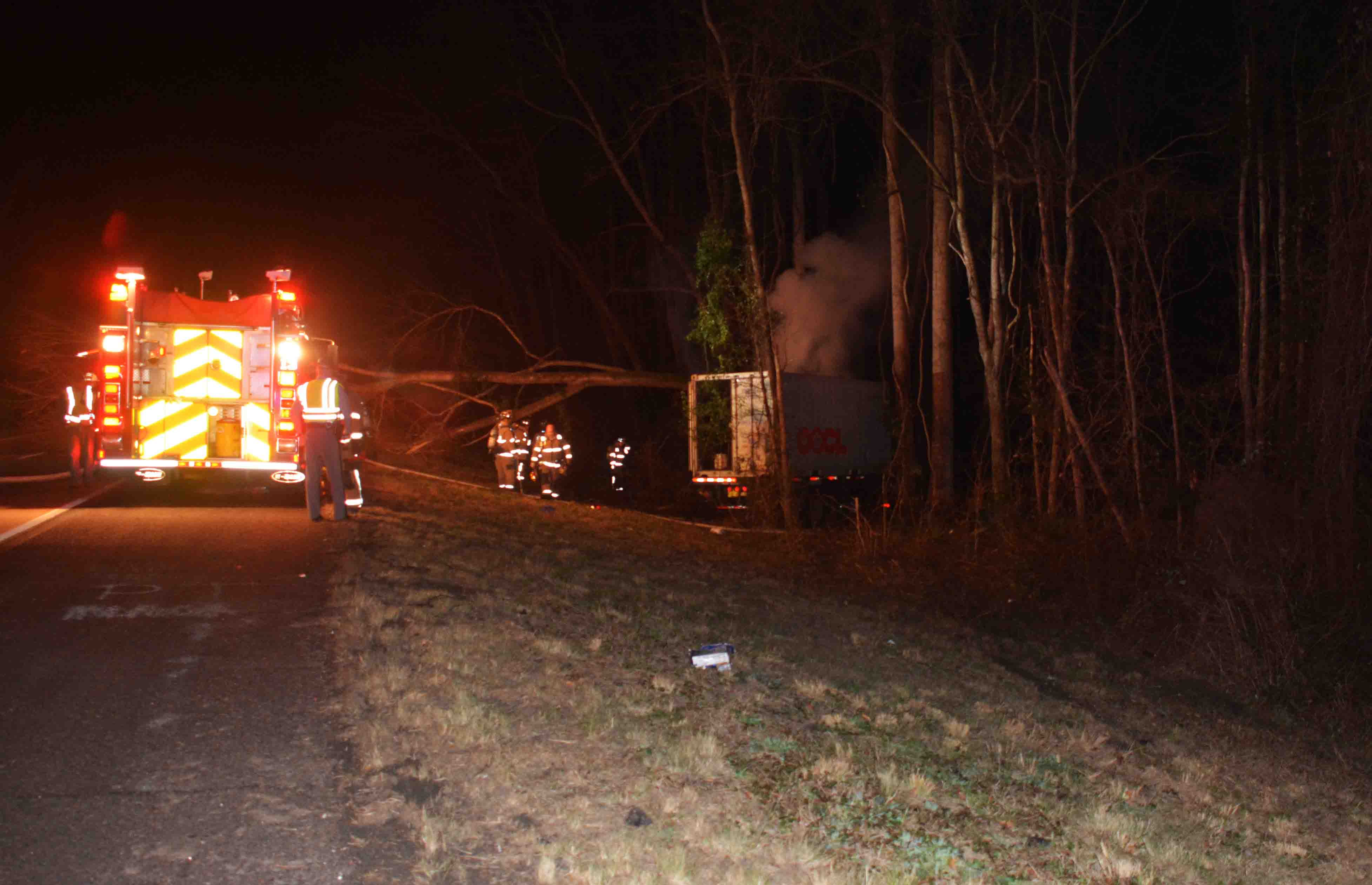 08/January/2018 – Fatal MVC with entrapment – "C" Shift
Incident # 18-00260 – A truck driver was killed in a single vehicle, high speed MVC on I-95 near the 42 mile marker southbound Monday evening 08-January at 20:34. Witnesses advised the southbound truck veered off of the roadway, drove down an embankment and struck several trees. The collision caused one oak tree to fall across the Interstate as the truck erupted in what was described as a fire ball. Firefighter-Paramedics from Station # 13 arrived minutes later to find the tractor trailer off in the woods fully involved. The cab suffered massive damage. One 1-3/4 handline was deployed to extinguish the fire, which also damaged the front of the refrigerated trailer. Crews worked for 15 minutes to bring the fire under control. A large amount of diesel fuel was also spilled and contributed to the fire. Once the fire was extinguished, crews located the driver's body trapped in the wreckage. The Coroner's Office was notified and responded. Once their investigation was complete, Firefighters used Holmatro Rescue to extricate the driver. He was transported by the Coroner's Office. The southbound lanes of I-95 were blocked for 30 minutes and the down to one lane for 3-1/2 hours. DOT crews also responded to the scene to remove the tree from the highway. The SC Highway Patrol is investigating the crash.
Engine 13, Tender 1, Tender 8, Rescue 1, Medic 1, Medic 13, Battalion 1, Car 112 and Car 118 responded. Battalion Chief Chris Jones served as Incident Commander.