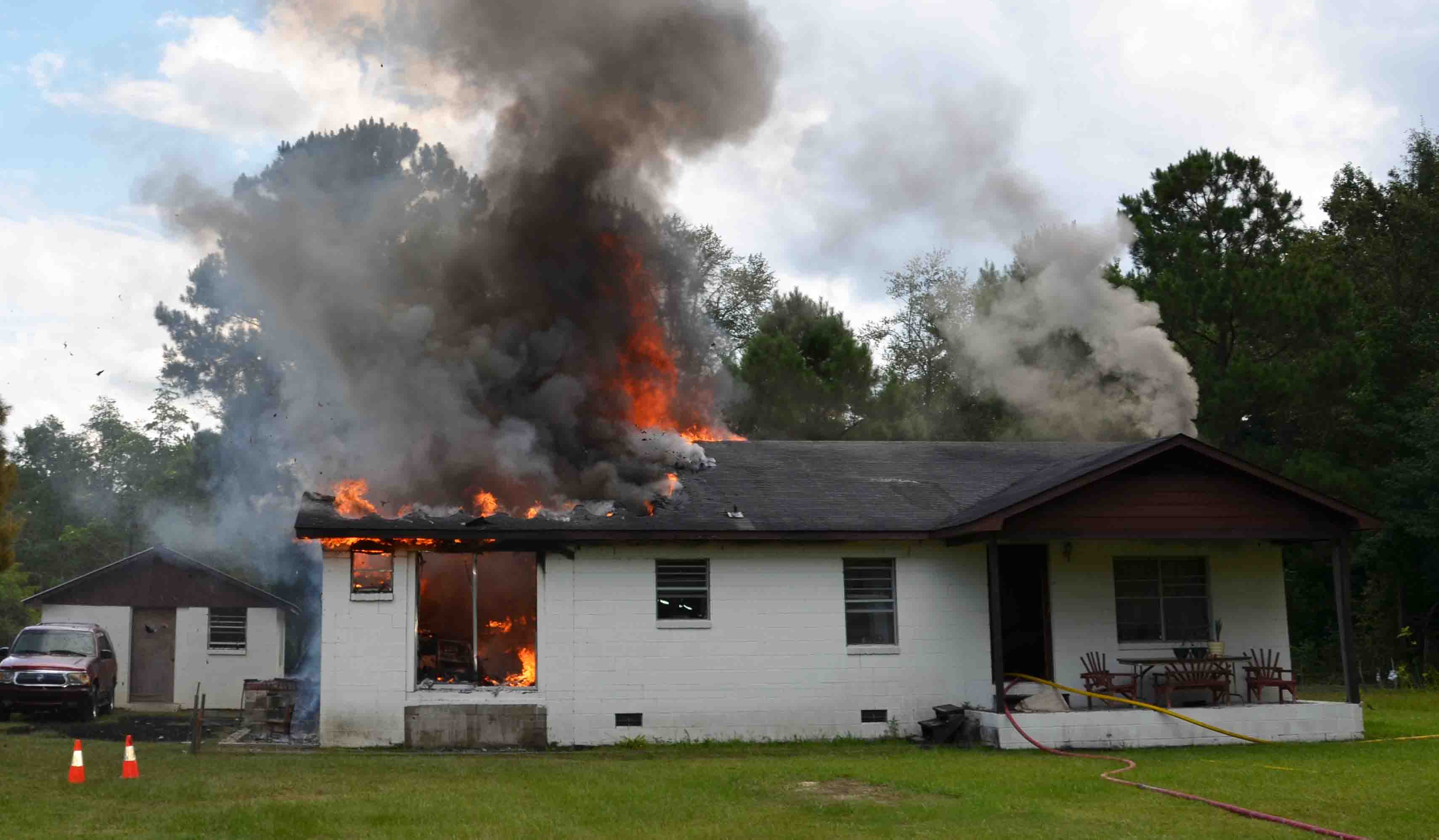 08/August/2013 – Structure Fire – "C" Shift
Incident # 13-04322 – A residential structure was heavily damage in an midafternoon fire Thursday 08-August. At 12:34 Fire-Rescue was notified of a kitchen fire at 336 Bish Lane in the Catholic Hill Community. While units were responding, a second 9-1-1 call reported the fire was in the attic. Engine 8 arrived on the narrow single lane dirt road, to find heavy flames burning through the roof of the single story block structure. All occupants had safely exited the building. Firefighters deployed two 1-3/4 handlines and made entry through the front door. They pulled the ceilings about half of the way through the home and stopped the advance of the fire through the attic. Crews were able to stop the fire in the living space as well, saving half of the home and many personal belongings. The remaining half of the residence suffered extensive damage. Water supply was difficult due the narrow road. Two firefighters were assigned the task of coordinating the Tenders as they arrived. Tenders had to stage away from the scene, then back into the road to supply the Engines and then be swapped out. A drop tank could not be used. Firefighter-Paramedics evaluated one elderly woman, but she did not require transportation to the hospital.
The fire started as a grease fire on the stove. The occupant moved the burning pan to the outside of the building, but the cabinets had caught on fire. The fire quickly spread throughout the kitchen and into the attic. She was able to go down the street and have a neighbor contact 9-1-1. Units were on the scene for three hours.
Engine 6, Engine 8, Tender 1, Tender 2, Tender 8, Tender 12, Tender 13, Medic 6, Medic 13, Battalion 1, Car 110, Car 111 and Car 12 responded. Battalion Chief Dan Barb served as Incident Commander.